Warehouse pick up price Now ($3999.00). Rotary Lift's New SPOA10-TA-TRIO BLUE has a patented 2 piece, 3-stage asymmetric arm. The TRIO arm is now interchangeable with 3 different vehicle contact options and 3 quick change adapter types all on the same arm. No other lift has this feature allowing the arms to slide for adjustment with the least amount of effort and less tugging on heavy inner arms. The new TRIO arm also has the largest range of arm sweep of any lift on the market. Faster setup, less effort and the ability to quickly use the correct adapter for the vehicle type being lifted.
FREE SHIPPING may take 7-12 days to ship if shipping direct from manufacturer. Expect same or next day shipping if shipping from our North Carolina warehouse. Destination and availability will determine where shipping originates. Pick up only available from our North Carolina warehouse at this time. Local sales tax will apply.
The Model SPOA10-TA offered here includes the TA frame adapter set with height extension spacers. Optional RA round unibody adapters (shown below) and FA Flip-Up universal adapters are also available and interchangeable with the TRIO arms (see all 3 adapter sets near bottom of page).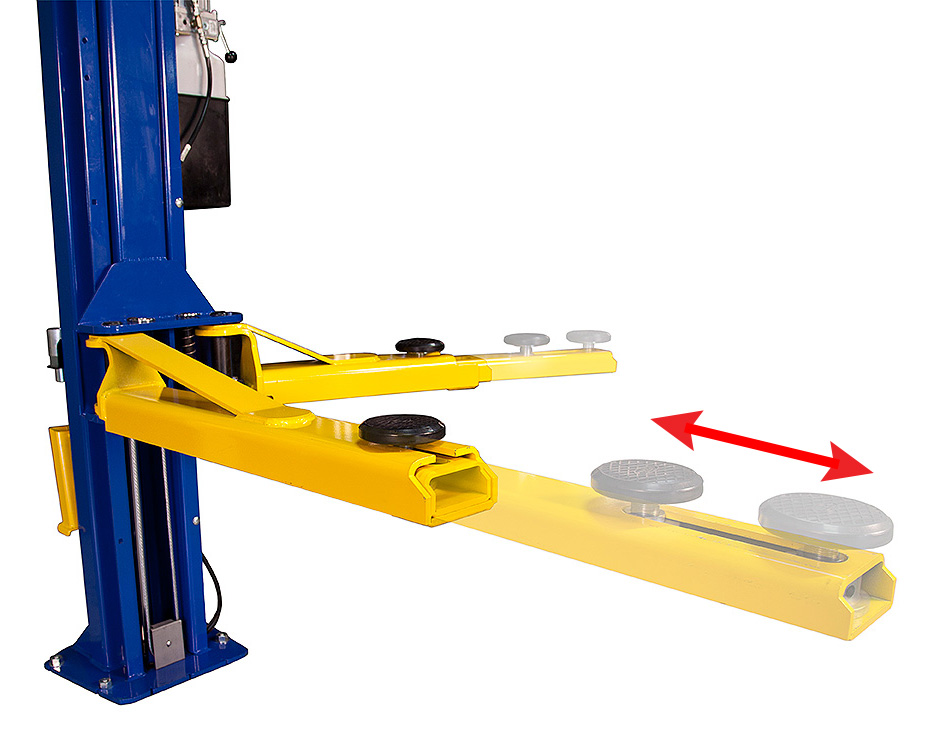 OK, Let's get 4 things solved right out of the box:
1) Made right here in Madison Indiana USA.
2) The SPOA10 is the World's #1 selling asymmetric 2-post lift model (it's popular).
3) The NEW SPOA10 TRIO is the most effortless and versatile arm system on the market. (we love real innovation that makes life easier and safer)
4) Manufactured and Certified by the largest lift company in the world, the Fortune 500 Dover Corp. (there's no lift company above them).
The SPOA10 TRIO is an true asymmetric rotated column design with the all new Trio arms. The SPOA10 TRIO asymmetrical three-stage 2 piece arms increase overall arm sweep and minimum arm reach to precisely lift a variety of vehicles with uni-body construction, framed vehicles, a wider vehicle treadwidth, or a short or long wheelbase. It is simply the most versatile arm and the easiest to adjust to any vehicle type. The column is well known as the original "Double S" design for incredible strength and durability. The SPOA10 TRIO is ALI Gold Certified and tested beyond 20,000 cycles (other lift companies don't do this).
THE INDUSTRY STANDARD For over 30 years, Rotary has engineered asymmetrical lifts with the quality and attention to detail that can't be found anywhere else.
The SPOA10 Trio is manufactured by the VSG subsidiary of the Fortune 500 Dover Corp. (NYSE:DOV) Based Here, Certified Here and Insured Here in the USA. VSG/Dover is the Largest Lift Manufacturer in the World and enjoys over 80% marketshare of the car dealer business in this country. Why? Because they take care of business, before, during and especially after the sale. You simply cannot get the "Peace Of Mind" from any other lift manufacturer that you have when you own a VSG/Dover product.
*VSG/Dover has "Hundreds of Thousands" of lifts and service racks installed in vehicle repair shops worldwide. Currently selling over 50,000 units per year. More than any other manufacturer. Rotary Lift is "The World's most Trusted Lift Brand".
Parts, Warranty and Support remain unmatched in this industry. VSG/Dover backs their products with a great warranty and support team that no other lift company can come close to. The majority of car dealers know this and enjoy the "Peace of Mind" that comes with owning a VSG/Dover product. VSG/Dover has the largest parts investment in the lift business. The parts inventory/delivery system is a 7 Tower REMSTAR computerized storage system worth over 7 million dollars. This parts system rivals that of most car companies. Their commitment to the customer cannot be matched. The SPOA10 Trio has a 5-Year Structural Warranty and a 1-Year Parts & Labor Warranty.
Check out the strong features list of the SPOA10 TRIO:
FEATURES
TRIO Asymmetric 2-Piece 3-Stage Lift Arms with TRIO TA Adapters included. Includes Polymer TA truck/frame adapters that thread-up and include stackable height extensions
with 10,000 lbs. capacity. No metal to metal contact.

Hydraulic Safety System Automatic All Positions

Oversized carriages spread the load out across the column to reduce the overall load on the lift.


Rubber Door Guards to protect against door damage

Hydraulic Hoses Routed Inside Columns for Protection

Single Point Lock Release to unlock both columns from one side.

Heavy Duty Arm Restraint System with oversized steel gears, pins and springs for trouble free operation.

Swing Arm Restraints Automatic Locking Above 2 1/2"

Padded Overhead Shut Off Bar to protect vehicle

Self-lubricating UHMW Polyethylene Slide Blocks

Powder Coated

BLUE

Paint Finish, also available in BLACK or

RED




Anchor Bolts Included
SPECIFICATIONS
Lifting Capacity: 10,000 LBS.

Motor Rating: 2HP, 208-230V, 60Hz, 1 PH, 12 - 16 amps, 20A circuit

Overall Floor Width: 11' 5 3/8"


Overall Height: 11' 8 1/2"

MIN. Floor to Ceiling Height: 144"

Floor to Overhead Shut-Off Switch: 11' 2 3/4""

Lifting Height 72 3/4"-78 1/4"

Low Pad Height: 4 3/4"

Low Step Pad Height 7"

High Step Pad Height 10 1/4"

Column Steel Thickness - 1/4"

Width Between Columns: 107 1/4"

Width Between Carriages: 113" or 107"

Drive Thru: 95 1/4"

Cylinder height 11' 10 1/2"

Shipping Weight: 1750-LBs.

Concrete Requirement: MINIMUM. 4 1/4" Depth, 3000 PSI


Lifting Time: 48 Seconds Unloaded, 53 Seconds at rated capacity
TRIO Interchangeable Adapter Kits.
Rotary FA - (Optional) Flip-Up Universal Adapters - KIT # T100274 includes components for four (4) arms.
Rotary RA - (Optional) Thread Up Round Unibody Adapters (Unibody) KIT # T100272 includes four (4) FJ6219 adapters
Rotary TA - (INCLUDED) Thread-Up Truck/Frame Adapters for use on TRIO arms. KIT # T100273 includes four (4) T110564 adapters.
Adapter Extension Kit (INCLUDED) with RA or TA TRIO arm Lift Models. KIT # T100271 includes four (4) T130660 (3.5" tall extension) | (4) T130661 (5" tall extension) | (2) T130683 rack kit with mounting hardware.
The SPOA10 Trio is proudly manufactured by Dover Corp.'s Vehicle Service Group (VSG). VSG comprises nine major vehicle lifting and collision repair brands: Rotary Lift, Chief® Automotive Technologies, Forward® Lift, Direct-Lift®, Weaver® Lift, Hanmecson®, Revolution®Lift, Elektron, Blitz® and nogra®. Based in Madison, Ind., VSG has operations worldwide, including ISO 9001-certified manufacturing centers in the U.S., Europe and Asia.
Documents:
Documents:
Documents:
Documents: