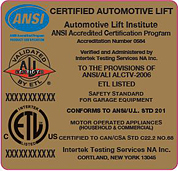 Best Seller! ON SALE through July while supplies last. $400 REBATE from Direct-Lift if purchased before 08/31/23, click here for more details. Save an additional $400.00 Now on special warehouse pick up pricing ($4,599.00)! The Direct-Lift® Pro-Park 8 Plus (Model PP8PL2PY11BKD) Four Post Auto Lift is America's #1 Enthusiast Car Lift. Direct-Lift® is manufactured by the Vehicle Service Group (VSG). VSG is the World's Largest Lift Manufacturer producing the Rotary Lift®, Forward Lift® and Direct Lift® brands. The Direct-Lift® brand has sold over 100,000 lifts to the enthusiast market and is the official lift of the Barrett-Jackson Collector Car Auctions.
Free Shipping To Over 70% of the USA - See Where It's Free
Which Direct-Lift® Pro-Park Model is right for you? (see comparison chart below):
The Pro-Park 8 Plus is ALI/ETL Certified. The PP8 Plus has the added bonus of being longer (180" runway) and lifting a foot higher (clears 80" under runway) than the Pro-Park 8 Standard.
Our Direct-Lift® Pro-Park 8 Plus 4 Post Lift is the only ALI/ETL Certified four post lift in its class. Being "tested and certified" to the OSHA recognized USA automotive lift standard removes any confusion when compared to other lifts and provides the ultimate stamp of approval for many buyers seeking a Pro-Park style lift. So much so, that the Pro-Park Series of lifts have earned the #1 sales position in its class since 2002.
Compare these 3 important considerations before you purchase your next lift:
Has the lift been "tested and certified" by ETL to the rigid USA lift standards? All of the Pro-Park Series lifts have been tested and validated as "Certified" by the nationally recognized ETL testing lab to meet or exceed the current USA ALI/ETL standards.



Is

the manufacturer known and where is it made? Most lifts sold to compete with the Direct-Lift® Pro-Park Series are imports that are being brought in from unknown manufacturers at slightly lower prices. These companies do not conform to the USA lifting standards and therefore guess at rated capacities. It is unknown whether these companies are even insured in the USA (it should be vital that you ask these questions).All Direct-Lift® models are owned and manufactured by the Fortune 300 Dover Corp. (NYSE:DOV) based here in the USA. Dover has ISO-certified manufacturing plants worldwide to compete in the global market. Dover is the largest lift manufacturer in the world and also owns the Rotary Lift, Forward Lift, and Revolution Lift brands. You simply cannot buy from a more stable and reliable company based here and insured here in the USA. *VSG/Dover has "Hundreds of Thousands" of lifts and service racks installed

in vehicle repair shops

worldwide. Currently selling over 50,000 units per year. More than any other manufacturer.

What is the warranty and availability of parts? All of our Direct-Lift® models carry a 5 year parts warranty and a 1 year warranty on the power unit and hydraulic cylinder. Parts are inventoried here at our warehouse with a large, multi-million dollar backup at the Direct-Lift headquarters in Madison, Indiana. Our headquarters owns and utilizes an automated 7 Tower REMSTAR inventory management and parts distribution system with a 99.5% accuracy. This large investment is unmatched in the lift industry and rivals many systems used by the car companies. Shipments are made daily in a very timely fashion. Most parts orders are shipped within 24 hours of order. Rest assured, no other lift company comes close to this level of commitment to customer service.
The Pro-Park 8 Plus 4 Post Lift has been designed for those who need more height to park an SUV or truck underneath. It clears 81" under the runway which provides adequate height to park most SUV's and pickup trucks and 86" of lifting height for the top vehicle. The Pro Park 8 Plus has an extended runway length to accommodate longer wheelbase trucks. The Pro Park 8 Plus runway length is 180" which will accommodate up to 164" wheelbase.
The Direct-Lift® Pro-Park 8 Standard car lift is able to level your runways while in the locked position in addition to the secondary safety lock system. All other lifts on the market, including Backyard Buddy, Complete Hydraulics, Danmar, Superior, Atlas and others do not provide for leveling the lift while resting in the locked position NOR are they Certified to the rigid OSHA recognized ANSI/ALI ALCTV-2017 automotive lift standards. All of our Pro-Park Models have passed the OSHA-recognized ANSI/ALI ALCTV-2017 standards validation process for auto lift models and earned the right to be distinguished by the Gold Certification Label shown above.

What distinguishes the Pro-Park 8 Plus car lift from our competitors is the unique leveling and locking system. The Double Lock Ladder Safety System is the same as found on our commercial style 4-post models (Pro-Park 9 Plus and Pro-14) and allows you to level the lift to an unlevel floor while being in the locked position. Our competitors are not capable of being level on an unlevel floor while in the locked position which is how you use any lift correctly. They can only be locked on locks that are not adjustable which leaves your vehicle locked only as level as your floor or the lock position. The Pro-Park 8 Plus not only solves the problem of leveling but also has a unique backup secondary lock. Should a cable go into a slack condition for any reason, the secondary lock will engage automatically.

The Pro-Park 8 Plus gives you all the features of our high-end commercial 4-post lifts at a very special Direct price. Included with the Pro-Park 8 Plus car lift are a Free Caster Kit with Poly Casters, (4) Free Drip Trays , Free Jack Tray and (2) Free Wheel Stops.. An optional Pro-Jack is also available to provide wheels free service. The typical installation time is approximately 4-5 hours.

The Pro-Park 8 Plus is manufactured by Direct-Lift and is backed by a 5 year parts warranty and a 1 year warranty for the hydraulic power unit/cylinder system. Direct-Lift® is a Vehicle Service Group company which is a subsidiary of the Fortune 500 Dover Corporation (NYSE:DOV) which is the Largest motorcycle/auto/truck lift manufacturer in the world. Customer service and support after the sale is the best in the business. All Direct-Lift Pro-Park models are non-returnable/non refundable items. Warranty defects will be solved under the machine warranty.

For a limited time, get your choice of Weaver Graphics Lift Decal set included.
FEATURES
Increased Lift Height

Commercial Grade

Double Lock Ladder Safety System

Steel Approach Ramps

Powder Coat Finish

8,000 LB. Capacity

Diamond Plate Runways

Single Point Lock Release

11 Locking Positions (under runway)

20", 26", 32", 38", 44", 50", 56", 62", 68", 74" & 80"




INCLUDED Jack tray

INCLUDED Caster kit (polyurethane wheels)

INCLUDED 4 Drip trays

Available in Black color only.

Question: How much ceiling height clearance will I need to stack my cars?

Answer: Add the height of your vehicles together, then add 7" to that total. Note: The maximum bottom vehicle height is 79.00" for the Pro Park 8 Plus and the Pro Park 9 Plus. The Pro Park 8 Standard would be 67.00".
PRODUCT SPECS
Distance Between Runways: 38"

Runway Length: 184"

Approach Ramp Length: 37.00"

Column Dimension 145mm x 74mm

Column Thickness 4mm (8 gauge)

Baseplate Thickness 10mm

Runway Thickness 5mm (6 gauge)

Cable Diameter 3/8

Lift Capacity: 8000 LB

Power Requirements: 115V

Concrete: 4.00" 3000 PSI Rebar Reinforced Concreted

Shipping Weight: 2,020 LBS

A - Clearance Under Runway: 6' 9" (81")

B - Overall Length: 18' 10" (226")

C - Overall Width: 10' 1" (121") with motor, 9' 1.5" (109.50") without motor,

Optional Re-position Bracket




D - Inside Column: 8' 4" (100"), width at crossrail pulleys 86" (max treadwidth outside to outside tires)

E - Overall Length w/out Ramps: 16' 4" (194")

F - Column Height: 8' 1" (97")

G - Runway Width: 1' 6.5" (18.50")

H - Runway Height: 4.50"

I - Distance Between Runways: 3' 2" (38")
The Direct-Lift® Pro-Park 8 Plus is proudly manufactured by Dover Corp.'s Vehicle Service Group (VSG). VSG comprises nine major vehicle lifting and collision repair brands: Rotary® Lift, Chief® Automotive Technologies, Forward® Lift, Direct-Lift®, Hanmecson®, Revolution® Lift, Elektron, Blitz® and nogra®. Based in Madison, Ind., VSG has operations worldwide, including ISO 9001-certified manufacturing centers in the U.S., Europe and Asia.
I have had this lift for a year now. It is my first lift and I drove 340 miles and picked it up at the Ft. Worth warehouse. Great service from Derek Weaver and very friendly. I set it up by myself (did need an engine hoist) as the left ramp weighs about 900 pounds per direct lift. It took me a couple weeks days to get it assembling and leveled. I have used it several times and love it. No problems. I did finally bolt mine into the concrete floor when I was sure where I wanted it. This lift is very well built and I feel safe working under it. I am fixing to purchase the pro-lift Jack as I have used a scissor Jack off of the Jack tray that came with my lift. This 8000 pound lift is the best investment I have ever made. I am 66 and it is so nice to work under my lift vs. crawling around on the floor.
One other thing, these guys know how to pack this lift for damage free shipping.
A
I can easily give 5 stars for the quality of the lift as well as the service from Derek Weaver company.

DIRECT-LIFT® PRO-PARK 8 PLUS CERTIFIED 4 POST LIFT

Great lift. Very heavy, you will need an engine hoist or 3 extra people to help build it. I found an online vid from Direct Lift that helped tremendously. Owners instructions were lacking the detail i needed to build it. The lift works great. I like the height so i can walk under without ducking. I would highly recommend this autolift for any homeowner!

We put this in the corner of our shop, it works great, I want to order 1 for my house now!

Direct Lift continues to be a favorite in our home restoration hobby. I use it constantly and move it all around the shop. You can lower it over a pickup box and lift off the frame if needed. It is built very well and have had NO issues. I will be ordering more in the future.

Direct Lift Pro-Park 8 Plus

I spent a lot of time and did a lot of research comparing different brands of lifts and decided on this one. I waited a few months to do this review and have decided I made the right choice. Works as advertised. I recommended the lift to friends and now 3 of them have Derek Weaver lifts. Two have the Pro-Park 8 Plus and one has the Pro-Park 9 Plus. All are equally satisified.

I took along time to decide on this purchase. I made a thousand excuses how I can use a bottle jack and ramps etc to do the job. Now that I pulled the trigger It has given new life on my auto repairs and rebuild. I picked up at the warehouse in Ft Worth, easy and painless. Assembly is relatively easy but the directions are slightly confusing.I would suggest atleast one other person if not two and a hoist. If you've researched or seen the lift in person it helps make sense of it all. All in all about five hours to assemble. Filled the reservoir, plugged it in and up she went. Lock release takes a little adjusting but no real hassle. Enjoy!!

Direct Lift 4 Post 8 Plus

Nice lift, I like everything about it after initial use. I rated it 4 star only because the 5 star rating said the best, and I don't know that it's the best for sure. I assembled it with the help of two friends in about six hours.

Bought this lift because I had purchased a similar lift about 10 years ago built by the same company and it has been flawless. This new unit seems to be the same quality and very easy to assemble. Had the lift up and running in 6 hours by myself with the help of a material lift and am very pleased with the quality. It was delivered as quoted and packaged very well. Time and usage will tell the story but I expect no problems. Did a lot of research and this is the best value for the quality. No complaints at all.

Very good quality product that does exactly what it says

The Pro Park 8 Plus is a valuable asset to any garage or workshop. This took about 5 hours to get unpacked, assembled and into operation. I just love it! I was weary of the Chinese factor but I carefully reviewed all the components, welds, materials, etc. and very pleased with the final result. No complaints. I did a lot of research before buying this and not disappointed. I can highly recommend this product.

This is my first personal lift. I opted for a professional installer so delivery was included! It took them about 3 hours to set it up. The lift is very easy to operate and the included drip pans are a bonus for anyone with classic cars since they all seem to leak something. Another nice feature are the casters that allow you to roll the lift around the garage if you need to move it. I've only had the lift for a few weeks but I really like it so far and have no complaints. That's the only reason I can't give it 5 stars.

Bought this for my first lift to use in my new home industrial mechanic shop. Directions to assemble was a little tricky to figure out in some parts but easy to get together. I have used it on around 40-50 vehicles now and works awesome for all the repair jobs from brakes and tire repair to engine and transmission removals. Just what I was looking for in a four post. Makes everything a lot easier and worked great on a variety of vehicles. Will be buying a larger lift from Derek weaver in the near future for sure.

Really nice and enjoy having it.

Great lift at a reasonable price!

Extremely well built & relatively easy to install.
I say relatively as the instructions are not as clear as they could be. Great news is, it was still easy enough to put together!
I will recommend this lift to all current (and future) friends looking to buy a lift. The folks at Derek Weaver were GREAT to work with!

Excellent product - assembly instructions could be better

Once assembled, the lift is great. Construction and materials are very solid, operation is smooth. I was disappointed in the assembly instructions. Diagrams were simply from the AIM and showed expanded views.

Straight forward setup, did the heavy lifting with two men only. Not recommended, but we showed it can be done. Leverage is your friend when moving the treads.

Great product, great price. At1920 pounds this lift costs just a little over $1 a pound. Considering the quality and size I don't know how Direct does it!

I have purchase other shop equipment that involved re- drilling holes, drilling holes that were not drilled at the factory etc. The Direct lift bolted together without any problems at all. It rolled into position, we loaded a car, took it to the top and parked another car underneath just as we planned. The plus model offers good head room underneath. If you want to work under the lift there is plenty of room.

Packaging was well designed. Lots of though put into condensing the size of the unit for shipping. When the unit arrived and we unpacked everything, one Heim joint end was missing off one of the unlock rods. One call to Direct and the missing heim joint arrived two days later, no questions asked.

Would highly recommend this lift especially if storage of cars is your goal. If doing a lot of mechanical work is your thing, you may want to consider a two post lift because of greater access to the underside of the car although oil changes and general maintenance can easily be done on the four post.

Very happy with our purchase!

I have received and put together the Pro Park 8 lift. I am very pleased with it. It took about 5-6 hours to assemble, test and start using. I have a Rotary 2 post asymetrical lift and I like this 4 post just as much, if not more, due to the ease of getting a vehicle up on it. It takes a car up very high so you can park something pretty tall up under. The quality of the lift is excellent. I thought that the assembly instrucitons were as not good as they could be. They need to include some pictures and be more clear. However, we got it done and I am proud of the lift.

Donna took my order and was extremely helpful and pleasant. I give her 5 stars, too. A fork lift is needed to get the nicely packaged lift off the enclosed truck. Two of us erected it in about 3 hours and fully adjusted and operational in another 3. Better instructions would have shortened the assembly time. Good design, great engineering, I highly recommend it.

I just purchased the Pro 8 Plus four-post lift and I can say that the lift is simply great. The kit was totally complete with all parts neatly packed and all present and all in great condition. I assembled the lift in ruffly 8 hours and hey, I am slow. It went together perfectly and works great. Direct lift = Great lift. thanks.

Excellent customer support

Company was able to provide me with several options for local installers who received the unit and then brought to my house and installed it according to my schedule. Every question I had regarding the lift was promptly answered and order to delivery was only 3 days. Lift is installed now and I love it as it has expanded my 3 car garage to a four car.

Great quality, easy to assemble, great value for the price. I like that it is certified and the company that oversees its production is a fortune 500 company.

Really helps my car restoraton projects. No longer do I have to crawl on my belly like a reptile not to mention getting up off the floor a thousand times. It really helps with storage of other vehicles in inclimate weather. The free drip pans are a real plus. Thanks, Allen

Good quality materials for lift itself. I would liked to have it a bit wider. My Dodge Ram barely squeezes between the uprights, even with the mirrors folded back. Shipping damage problems were taken care of very promptly with no hassles. Obviously customer oriented. My next one will come from here.

What a fantastic product! Why did I wait so long to get one. The craftsmanship is second to none. I ordered it and it was shipped to freight yard here where I picked it up. Took it home and wondered "what have I done?" Turns out I had done something that I should have years ago! The packing was perfect, the instructions well written and the whole assembly well thought out. I assembled it by myself, although I would suggest some help with the ramps as I was told in the instructions, but since when do guys follow instructions! The lift works better than advertised. It rolls around with the car on the lift, at the lowest position, with ease. I can't thank you enough for putting out a product so well designed and well built.


Documents:
1,900.00 LBS
Derek Weaver Company is proud to offer our high quality products with free shipping or warehouse pickup. Here's how it works...
PRODUCTS MARKED FREE SHIPPING
All Products on our website are offered with "Free Shipping". This means the freight charges are included in the price. Most of our products weighing less than 800-lbs. are offered with "Absolute Free Shipping" which means there are no extra fees. In this case you will notice the phrase "FREE SHIPPING! Includes Free Residential and Free Lift Gate Service!", in the description of the products page. Absolute Free Shipping also means there are no additional fees for Liftgate Service or Residential Delivery. The only additional fee that you may incur would be if the address were changed during shipment which would incur a reconsignment fee by the freight carrier that we would only pass on if it were not our mistake.
For equipment over 800-lbs (most 2 & 4-Post lifts) there are some limitations for Free Shipping depending on weight and delivery location. In this case you will notice the phrase "Free Shipping To Over 85% of the USA - See Where It's Free" in the description of the products page. Most of the USA will require no additional fee. This applies to over 85% of the continental USA (lower 48 states). Free shipping does not apply to Alaska or Hawaii. Some parts of the country are affected by higher freight rates due to the combination of weight and delivery location which will require a small additional charge to cover the higher rate charged by the freight carriers. Our shopping cart will not calculate the difference (added fee), so we will contact you if this is the case. Rather than advertise the higher rates across the board we choose to show the lowest possible cost to most of the country. Like "Absolute Free Shipping" there will be no extra charge for lift gate or residential delivery. The following areas may have additional freight: North Western US, North Eastern US, Long Island, Western Colorado, the Dakotas, some parts of Florida & California and any area deemed a remote location by the freight company. Prior to ordering give us a call at 817-560-9510 or email and we can provide accurate information regarding Free Shipping or any additional charges.
FREIGHT CONSIDERATIONS
Shipping and delivery time given during the freight quote process is an estimated time of delivery given by the carrier. Choosing Liftgate Delivery may extend delivery times due to limited liftgate equipment at the delivering terminal. Meeting the delivery schedule is subject to the day the freight is shipped and the carrier's ability to meet their schedule. Derek Weaver Co., Inc. does not guarantee that a carrier can meet their projected delivery time but we will provide you with the proper tracking information by email so you can follow the tracking time and arrange for special delivery needs with the carrier as needed. Any additional fees incurred as a result of consignee being unable to meet scheduled delivery time or cause for redelivery or reconsignment to a different location will be at consignee's expense.
RESIDENTIAL DELIVERY:
Choosing Residential may extend the estimated delivery time due limited liftgate trucks at the delivering terminal, additional communication and handling by the freight company. Please keep this in mind when choosing residential delivery.
UNLOADING THE FREIGHT TRUCK:
Make sure you can unload the freight. A forklift or lifting equipment is required for items over 800-lbs. The trucking company is only responsible for delivery to your loading dock if delivered to a business address or curbside if a residential lift gate delivery. Lift gate service is available for some equipment and can assist in unloading 2 and 4-post lifts however you will still need a forklift. Liftgate capacity is typically 1000-lbs and cannot unload a 2 or 4-post lift on its own.
PICKUP AT YOUR LOCAL FREIGHT TERMINAL:
If you are unable to unload a truck, we have the option of letting you pick the freight up at the closest terminal to your location. When picking up at a terminal, the freight company will load your truck or trailer for you which is included in the freight cost. Call our office (1-817-560-9510) to determine the location of the closest terminal. If you require terminal pickup please place a note in the comment box requesting terminal pickup and we will contact you with the terminal location. Covered trailers or trailers with ramps are not acceptable as they prevent the forklift from getting the load into the trailer. They will not drive onto a ramped trailer. Please remove the ramps prior to picking up if possible.
All shipments must be inspected immediately upon receipt
IF AN ITEM HAS FREIGHT DAMAGE OR SCRATCHES
1) ACCEPTING AN ITEM WITH FREIGHT DAMAGE OR SCRATCHES.
Choose this option if you have minor dings and scratches or a part that needs replaced to make the unit satisfactory. Make note of the damage before you sign the freight bill. You will be responsible for filing the freight damage claim with the carrier. Derek Weaver Co, Inc. will provide any replacement parts or touch up paint needed should you choose this option and the carrier should provide for reimbursement. If you have any questions or need further assistance, please call our customer service department @ 1-817-560-9510
2) REFUSE THE DAMAGED ITEM.
Choose this option if the carrier has severely damaged the freight beyond your judgment of a simple repair. Derek Weaver Co, Inc. will file all freight claims. Get a copy of the freight bill from the truck driver and email it with a brief explanation of the situation to us. A replacement will be shipped as soon as we verify possession of the freight with the carrier.
SCHEDULING A WAREHOUSE PICKUP
If you would like to pick-up the item at one or our warehouses, please call ahead to make sure the item is in stock and schedule your pick-up. Picking up at our warehouse will save you in freight fees but will require sales tax to be collected. If you do not see a pickup price on our website for the product you are interested in you may call our office for more information.
In Texas we load Monday – Friday by appointment only.
In North Carolina we load Monday – Friday by appointment only.
All Two Post and Four Post Lifts require trailer for pickup. Be prepared for pick-up by understanding the item's weight and dimensions and using the proper truck and/or trailer for hauling. We cannot load open or enclosed trailers with ramp gates. Our warehouse will load the item onto your vehicle and/or trailer but is not responsible for properly securing the load on your vehicle and you will need to make sure you have the proper straps and equipment for hauling. All items for local pick-up are charged state sales tax at the appropriate local rate. If you have any questions or need further assistance, please call our customer service department @ 1-817-560-9510