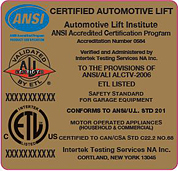 Best Seller Warehouse pick up price Now ($2599.00). CALL NOW to Save an EXTRA $200 off Shipping ($2889.00) on The popular Forward® Lift i10 while supplies last!
Our dear friend, Bo McGee, created the Forward® brand in 1968. Known for their outstanding quality and competitive prices, Forward® Lifts became an instant hit. Buyers across the country pushed Forward's sales to some very high numbers. So high that the value of the brand caught the attention of the largest lift manufacturer, Dover. Dover acquired Forward® in 1999 and has kept the same quality, features and value throughout the full line of Certified Forward® Lifts.
Free Shipping To Over 85% of the USA - See Where It's Free
Today, Forward® Lift's i10 is the brands popular choice for overall quality at an exceptional value in a 10,000-lb. capacity 2-post lift. The i10 still utilizes the Original and Proven Direct-Pull Hydraulic Cylinder system, single point lock release, Super Symmetric Spot-Rite Arm System and is backed by one of the best warranty in the industry.
The I10 is now manufactured by the VSG* division of the Fortune 300 Dover Corp. (NYSE:DOV). Based Here, Certified Here and Insured Here in the USA. Dover is the Largest Lift Manufacturer in the World and enjoys over 80% market share of the car dealership business in this country. Why? Because they take care of business, before, during and especially after the sale. You simply cannot get the "Peace Of Mind" from any other lift manufacturer than you have when you own a Dover product. Over 80% of car dealerships get it right and "Get It Up" with Dover.
*VSG/Dover has "Hundreds of Thousands" of lifts and service racks installed in vehicle repair shops worldwide. Currently selling over 50,000 units per year. More than any other manufacturer.
Forward® Lift's i10 is a proven commercial grade automotive lift with ALI/ETL Certification. The i10 features 2 Direct-Pull Hydraulic Cylinders, an exceptionally low pad height of 3 5/8" and the versatile Spot-Rite 3-Stage Front Arm System. The New Offset 3-Stage Front Arms give you an additional 5 3/4" of retraction allowing your choice of either Asymmetric or Symmetric lifting making the i10 lift perfect for both passenger car and truck applications. The Rear arms are 2-Stage to allow both lifting methods.

Forward® Lift also implemented an Adjustable Overhead Beam which allows for two width settings. The standard outside overall width setting of 137" or the narrow setting of 131".
The Forward® i10 is manufactured by Dover Corp.'s Vehicle Service Group in their state of the art ISO9000 certified manufacturing facility and is a popular choice among many of the largest car dealers in the USA. Backed by Forward's 5-Year Structural Warranty, 1.5 Year Parts Warranty and a 6 Month Labor Warranty, the Blue Powder-Coated i10 lift comes with all mounting hardware and three sets of stackable lift pad height extensions for maximum adaptability.
Check out the i10's features;
FEATURES
Powder Coat

BLUE

Paint Finish
2 Direct Pull Hydraulic Cylinders


Single Point Lock Release

Padded Overhead Shutoff

Internally Mounted Hose Protection

Adjustable Column Width provides 6" adjustment for narrow service bays.

Automatic

Heavy Duty Arm Restraint System with oversized steel gears, pins and springs for trouble free operation.


Stackable Lift Pad Height Adapters in 3 sizes (4 Each) 1 1/2", 3" and 6"

Symmetric Column Design

Self-lubricating UHMW Polyethylene Slide Blocks

Asymmetric / Symmetric

Spot-Rite

Arm Design
3 Stage Offset Front Arms and 2 Stage rear Arms


5-Year / 18 Month / 6 Month Warranty

Anchor Bolts Included
PRODUCT SPECS
Capacity: 10,000LBS

Overall Height: 143 1/8"

Minimum Ceiling Height: 12'

Minimum Pad Height: 3 5/8"

Maximum Lift Height: 77"

Overall Floor Width: 131" or 137"

Inside Column Width: 109 3/4" or 115 3/4"

Drive Thru Width: 99" or 105"

Lift Pad Adapter Heights: 1 1/2", 3", 6"

Voltage: 2 H.P. 220V / Single Phase / 20 amp circuit

Front Arm Length: 23" - 44 1/2"

Rear Arm Length: 38 7/8" - 58"

Speed of Rise: 50 Seconds

Shipping Weight 1750-lbs.
The Forward® Lift i10 is proudly manufactured by Dover Corp.'s Vehicle Service Group (VSG). VSG comprises nine major vehicle lifting and collision repair brands: Rotary® Lift, Chief® Automotive Technologies, Forward® Lift, Direct-Lift®, Hanmecson®, Revolution® Lift, Elektron, Blitz® and nogra®. Based in Madison, Ind., VSG has operations worldwide, including ISO 9001-certified manufacturing centers in the U.S., Europe and Asia.
this looked like the best deal on Forward 2 post I could find. My dad has one that is still in use today bulletproof. We decided to add another it works great! Solid lift and staff has great communication.

Great customer contact after purchase.Super fast shipping. Very nice product. Straight forward installation. Well worth the $.
Documents:
5 Year Structural Warranty / 18 Month Non-structure items (cylinder, power unit and parts), Labor Warranty / Freight paid for parts first 6 Months / 6 Months Labor Warranty Manufacturer Approved.
Foward Warranty
Derek Weaver Company is proud to offer our high quality products with free shipping or warehouse pickup. Here's how it works...
PRODUCTS MARKED FREE SHIPPING
All Products on our website are offered with "Free Shipping". This means the freight charges are included in the price. Most of our products weighing less than 800-lbs. are offered with "Absolute Free Shipping" which means there are no extra fees. In this case you will notice the phrase "FREE SHIPPING! Includes Free Residential and Free Lift Gate Service!", in the description of the products page. Absolute Free Shipping also means there are no additional fees for Liftgate Service or Residential Delivery. The only additional fee that you may incur would be if the address were changed during shipment which would incur a reconsignment fee by the freight carrier that we would only pass on if it were not our mistake.
For equipment over 800-lbs (most 2 & 4-Post lifts) there are some limitations for Free Shipping depending on weight and delivery location. In this case you will notice the phrase "Free Shipping To Over 85% of the USA - See Where It's Free" in the description of the products page. Most of the USA will require no additional fee. This applies to over 85% of the continental USA (lower 48 states). Free shipping does not apply to Alaska or Hawaii. Some parts of the country are affected by higher freight rates due to the combination of weight and delivery location which will require a small additional charge to cover the higher rate charged by the freight carriers. Our shopping cart will not calculate the difference (added fee), so we will contact you if this is the case. Rather than advertise the higher rates across the board we choose to show the lowest possible cost to most of the country. Like "Absolute Free Shipping" there will be no extra charge for lift gate or residential delivery. The following areas may have additional freight: North Western US, North Eastern US, Long Island, Western Colorado, the Dakotas, some parts of Florida & California and any area deemed a remote location by the freight company. Prior to ordering give us a call at 817-560-9510 or email and we can provide accurate information regarding Free Shipping or any additional charges.
FREIGHT CONSIDERATIONS
Shipping and delivery time given during the freight quote process is an estimated time of delivery given by the carrier. Choosing Liftgate Delivery may extend delivery times due to limited liftgate equipment at the delivering terminal. Meeting the delivery schedule is subject to the day the freight is shipped and the carrier's ability to meet their schedule. Derek Weaver Co., Inc. does not guarantee that a carrier can meet their projected delivery time but we will provide you with the proper tracking information by email so you can follow the tracking time and arrange for special delivery needs with the carrier as needed. Any additional fees incurred as a result of consignee being unable to meet scheduled delivery time or cause for redelivery or reconsignment to a different location will be at consignee's expense.
RESIDENTIAL DELIVERY:
Choosing Residential may extend the estimated delivery time due limited liftgate trucks at the delivering terminal, additional communication and handling by the freight company. Please keep this in mind when choosing residential delivery.
UNLOADING THE FREIGHT TRUCK:
Make sure you can unload the freight. A forklift or lifting equipment is required for items over 800-lbs. The trucking company is only responsible for delivery to your loading dock if delivered to a business address or curbside if a residential lift gate delivery. Lift gate service is available for some equipment and can assist in unloading 2 and 4-post lifts however you will still need a forklift. Liftgate capacity is typically 1000-lbs and cannot unload a 2 or 4-post lift on its own.
PICKUP AT YOUR LOCAL FREIGHT TERMINAL:
If you are unable to unload a truck, we have the option of letting you pick the freight up at the closest terminal to your location. When picking up at a terminal, the freight company will load your truck or trailer for you which is included in the freight cost. Call our office (1-817-560-9510) to determine the location of the closest terminal. If you require terminal pickup please place a note in the comment box requesting terminal pickup and we will contact you with the terminal location. Covered trailers or trailers with ramps are not acceptable as they prevent the forklift from getting the load into the trailer. They will not drive onto a ramped trailer. Please remove the ramps prior to picking up if possible.
All shipments must be inspected immediately upon receipt
IF AN ITEM HAS FREIGHT DAMAGE OR SCRATCHES
1) ACCEPTING AN ITEM WITH FREIGHT DAMAGE OR SCRATCHES.
Choose this option if you have minor dings and scratches or a part that needs replaced to make the unit satisfactory. Make note of the damage before you sign the freight bill. You will be responsible for filing the freight damage claim with the carrier. Derek Weaver Co, Inc. will provide any replacement parts or touch up paint needed should you choose this option and the carrier should provide for reimbursement. If you have any questions or need further assistance, please call our customer service department @ 1-817-560-9510
2) REFUSE THE DAMAGED ITEM.
Choose this option if the carrier has severely damaged the freight beyond your judgment of a simple repair. Derek Weaver Co, Inc. will file all freight claims. Get a copy of the freight bill from the truck driver and email it with a brief explanation of the situation to us. A replacement will be shipped as soon as we verify possession of the freight with the carrier.
SCHEDULING A WAREHOUSE PICKUP
If you would like to pick-up the item at one or our warehouses, please call ahead to make sure the item is in stock and schedule your pick-up. Picking up at our warehouse will save you in freight fees but will require sales tax to be collected. If you do not see a pickup price on our website for the product you are interested in you may call our office for more information.
In Texas we load Monday – Friday by appointment only.
In North Carolina we load Monday – Friday by appointment only.
All Two Post and Four Post Lifts require trailer for pickup. Be prepared for pick-up by understanding the item's weight and dimensions and using the proper truck and/or trailer for hauling. We cannot load open or enclosed trailers with ramp gates. Our warehouse will load the item onto your vehicle and/or trailer but is not responsible for properly securing the load on your vehicle and you will need to make sure you have the proper straps and equipment for hauling. All items for local pick-up are charged state sales tax at the appropriate local rate. If you have any questions or need further assistance, please call our customer service department @ 1-817-560-9510